Good Folks, it is Friday, December 4, 2015, with 21 days (504 hours) until Christmas, but who is counting? Thanksgiving was racked with friends and family, turkey and the works. It was a time to reflect on what are thankful for and God continues to prod us towards our greatest faithfulness.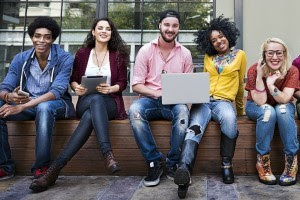 I came across an article that is not about Christmas or Advent. It is something that is important to me and is important to the church and its future: A Missing Generation. Rebecca Simon-Peter, a special contributor to the United Methodist Reporter (UMR) wrote this timely piece.
"The number one thing I hear church leaders around the country say is: We'd like to have more young people in worship. That's a terrific aspiration. But don't say it if you don't mean it. Digitals (born around 1999 and onward) and millennials (born around 1982-1998) will bring their own set of experiences, expectations, hopes and dreams to church. Which may or may not match yours. How willing you are to accept them on their own terms is a sign of your true readiness. Here's a 10-point checklist, with a bonus 11th point, to help you know if you are truly ready for young people. Or just wish you were."
[I have copied just the list for space.  You are invited to read the article in its entirety.]
You know you're ready for young people if…
You have an online presence.
You spend as much time being the church as going to church.
You're willing to engage real issues in the world.
You're willing to deviate from three hymns and a sermon.
Smartphones are welcome in church.
You focus on the "brilliant future God has for us."
You're willing to have beliefs questioned.
Your leadership reflects generational and racial diversity.
Love is a reality not a slogan.
You're willing for things to get a little messy
11. You have a vision bigger than "attract young people to church."
I am surprised that she did not list a crucial point: INVITATION. She does mention this haphazardly in the body of #11: …. Ask, invite and engage the 33-and-under crowd eagerly and joyfully….
I believe that when we invite, folks respond. Too often, we give up on inviting if those we ask to come to church do not show up; however, our task is to remain faithful in sowing the seed of invitation. Once through our doors, we welcome them as we have been welcomed and embraced.
God has a brilliant future for us, for you. It is not ours alone to enjoy but to welcome others to God's brilliant future for them through the church. See you Sunday. Ask & Invite and never stop sowing.
Shalom,
Pastor Frank
PS: Want a copy of the article, email me:alegria@fumcd.com
http://unitedmethodistreporter.com/2015/11/30/you-know-youre-ready-for-young-people-if/